I am quite new to all this and recently someone told me to convert the Panasonic HC-X1500 HEVC video file into ProRes for added edge and honestly I don't understand what he meant. So how we change file format without having any quality loss and most importantly WHY? what are the benefits of such conversion? I know in 4K HEVC we got some amazing freedom for coloring but what we will get from such conversion? I am learning to use Final Cut Pro X now days. Thanks.
The base HC-X1500 is priced at $1699, and is targeted to high-amateurs and vloggers, for event, travel, hobby and family shooting. Panasonic X1500 is a small lightweight 4K 60p professional video camera. Offering the on-site mobility and portability demanded by professionals, it enables high-quality 4K 60p recording. For video recording, 4:2:2 10bit Internal Recording and the new, high-efficiency HEVC codec are supported. This Wi-Fi-enabled Panasonic 4K professional camcorder has a 3.5-inch LCD monitor for viewing compositions from various angles, and the rechargeable 5900 mAh battery offers ample power for all-day use.
Why we need to convert HEVC to ProRes on Mac
You cannot improve image quality through compression. It doesn't matter what the codec is. The best you can do is preserve the quality of the original footage… this is called lossless compression.
ProRes is, by design, lossy and not lossless. Converting to ProRes will result in some loss of quality, technically speaking. Now, in reality, will the loss in it be visible with ProRes? Probably not, because what is coming out of your Panasonic HC-X1500 is already highly compressed footage.
In my experience, the main benefit of converting to something like ProRes, Cineform, or DNxHD (all are great editing codecs) is that it can be a lot easier to playback in your NLE (Fianl Cut Pro X, Premiere Pro CC, DaVinci Resolve 16, iMovie, Avid Media Composer). I know it sounds weird, given the bigger file sizes, but the way that HEVC is compressed in a way that can be really tough to playback for an NLE.
Top Mac HEVC To ProRes Converter
Actually, there are not so many video converters that supports ProRes codec. To save your time, I would like to introduce a powerful ProRes Converter – Acrok Video Converter Ultimate for Mac. This converter enables you to encode/decode various video format to/from ProRes 422/4444 in Mac OS and Windows OS. It also supports converting batch files to ProRes codec, as well as editing files easily. What's more, it's totally free to do the conversion. With this converter's help, we can convert videos to ProRes videos easily without any extra fee.
How to transcode Panasonic HC-X1500 HEVC to ProRes codec?
Step 1: Add HEVC Videos
Launch Acrok Video Converter Ultimate for Mac and then plug in your Panasonic HC-X1500. Wait for some time for your camcorder to be detected. Click the "Add Files" button to load 4K HEVC files that you captured using a camcorder to HEVC to ProRes Converter. Another method to add your MP4, MOV and MTS files is to drag-n-drop the files onto the program.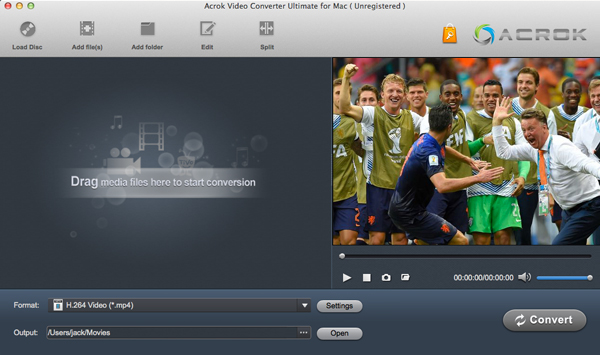 Step 2: Choose Output Format
Acrok Video Converter Ultimate for Mac is simply the best choice for your video conversion needs because it supports all the major file formats and convert them 30X faster than traditional converters. Compatible with over 200 video formats including 4K UHD Video. To get ProRes videos, please click "Format" > Final Cut Pro > Apple ProRes 422 (*.mov), Apple ProRes 4444 (*.mov). If you are Windows user, you can get ProRes profile under "Editing Software" ategory.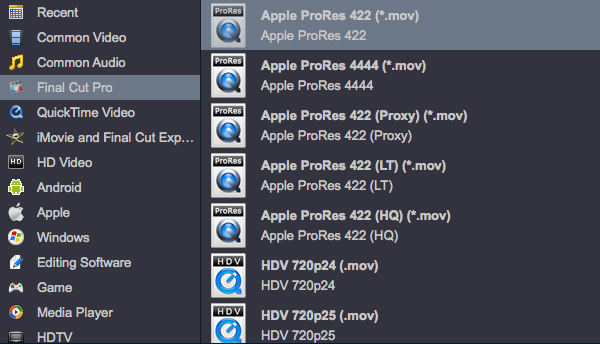 Step 3: Edit Videos And Settings (Optional)
You also can click "Settings" to set video frame rate, video size and Video Bitrate as you want. For geting orginal video resolution, please select "Orginal" in "Reaolution (pix)" column. Before converting Panasonic HC-X1500 HEVC to ProRes, you can click "Edit" icon to edit your 4K HEVC footage with this best HEVC Video Converter. On the "Video Editor" Window, you can play and preview the original video and output effects. Also you can flip video, trim, add 3D effect, reset, and adjust volume.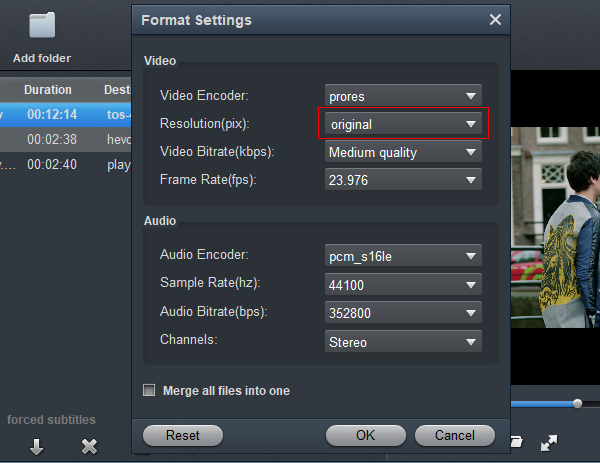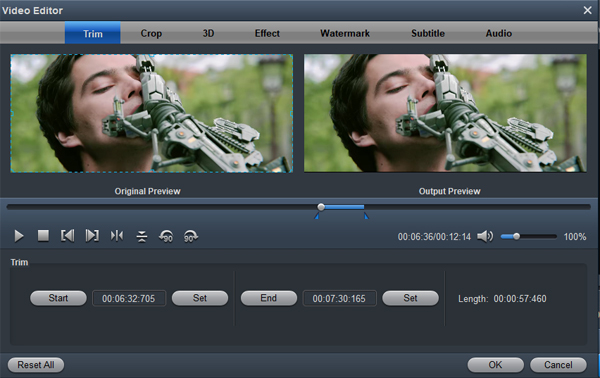 Step 4: Start Video Conversion
Hit the convert button of the Panasonic Video Converter. It will start converting Panasonic HC-X1500 videos to ProRes MOV on Mac immediately. Soon after the conversion, just click "Open" button to get the generated files.